HELLO FROM COVERROO!
Our mission is: less mess, less stress. From the pram to the high-chair, Coverroo is with you all the way. Whether you're out and about or feeding at home, Coverroo has got you covered! Our bib's universal fit ensures an easy and secure fit onto any pram, high-chair, or bouncer.
WE'VE GOT YOU COVERED
Coverroo's iconic prambib makes feeding on the go mess and stress free. Its award winning design offers your child's clothing and pushchair complete protection.
Just stretch your prambib around the back of the seat and pull under the footrest — easy!
Charcoal Prambib
(2 Sizes)
£24.95
Shop Now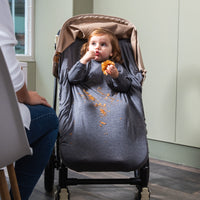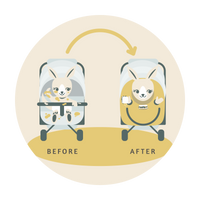 SO HOW DOES IT WORK?
You deserve stress-free, quality time with your family. So, slow down, cut the fuss, and count on Coverroo.
When out and about, simply pop the Prambib over your child's head and arms before stretching it around the pram. It's snuggly, safe and secure. Once finished, you can easily remove it in seconds! Just shake off the crumbs, wash your prambib and fold away for your next adventure.
Make snack times a doddle, catch those pesky spills with Coverroo.
Discover More
WHY CHOOSE COVERROO?
There's nothing else like it that gives you full coverage for your pushchair, bouncer or high-chair.
It protects children's clothes and the entire seat unit, so no more scrubbing.
You no longer need to strip the pushchair to clean it
It's small enough to pop in a changing bag and easy to wash.
Moreover it's safety tested to give you peace of mind!
Shop Now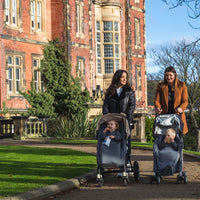 Its A Thumbs up from BBC1'S 'The Customer Is Always Right'
WHAT DO OUR CUSTOMERS SAY?
A must have for mess free weaning.. makes a big difference to my washload. 

⭐⭐⭐⭐⭐ 

Katie
Don't know how I coped before I got this, my pram was always such a mess! I cant recommend it enough.

⭐⭐⭐⭐⭐ 

Jess Price
Fabulous invention, Best thing i ve bought, No mess to clean, great customer service.

⭐⭐⭐⭐⭐ 

Sharon
Excellent product, such a good idea, great quality! saves me so much time.

⭐⭐⭐⭐⭐ 

Karen Young
Fantastic product, no mess and a clean pram. Highly recommended!

⭐⭐⭐⭐⭐

Kelly Dunn